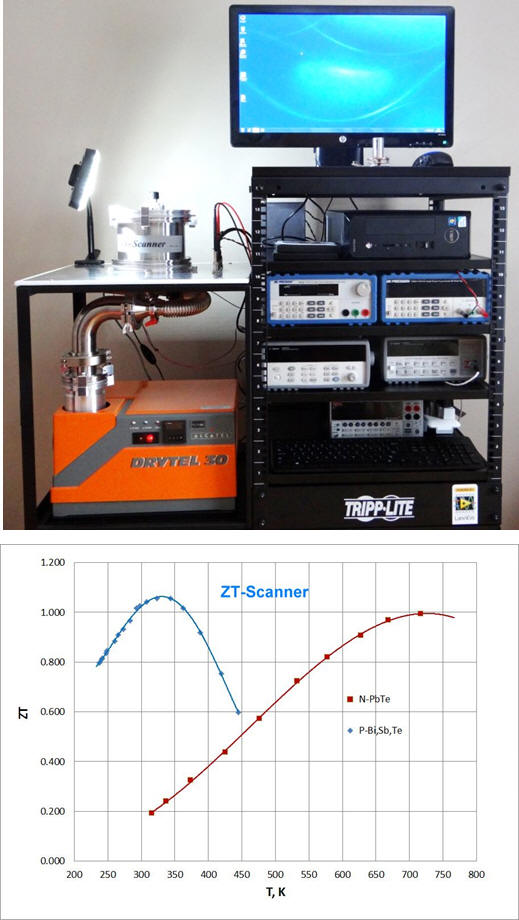 ZT-Scanner is designed in two desktop rack mounted blocks:
Pumping unit and vacuum chamber with the sample holder which can be cooled or heated to provide constant measurement temperature.
Vacuum condition is maintained by a two staged oil free pumping unit (high performance turbo drag pump backed with a diaphragm pump).
Ultimate Pressure: 1x10-6 Torr.
Two distinctive interchangeable sample holders ensure temperature ranges:
- Low temperature range from 240 to 370K.
- High temperature range from 300 to 800K.
Sample holder is designed to host samples with the rectangular base of 25-50 mm2 or round base with equivalent surface.
The length of the sample is up to 10 mm.
High precision programmable data acquisition unit.
Switching devices.
High precision programmable DC power source.
Programmable power supplies for heating and cooling sample holder units.
Controlling computer.
Input 110/220 voltage convertor.
Input power for the entire system is 110VAC, 60 Hz or 220VAC, 50Hz with the socket/receptacle of the US or EU standard.
Original software with user friendly interface is designed for operating the measurement system, data storage and easy visualization of the saved experimental data. Data storage is organized in a chronological order via yearly and monthly labeled folders, sample numbers and precise time of each measurement.
ZT-Scanner comes with installation, calibration samples, one year warranty, and email/Skype technical support.